Community Referral Networks
We help partners across the country redesign their resource referral networks in partnership with the communities they serve. This makes it easier for community members to access essential resources and ensures that these networks advance racial health equity.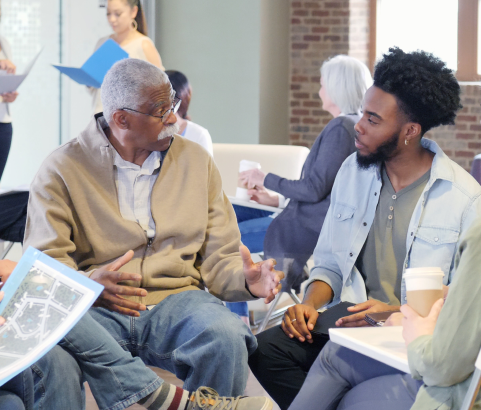 Health and social service systems have attempted to bridge resource gaps in a variety of ways. Efforts are intended to help connect community members with essential resources, and while some show promise, many only tackle surface-level concerns. Some even actively harm the individuals and communities they're intended to help.
Millions of people
rely on fragmented systems to access food, housing, healthcare and transportation across the country.
What are Community Referral Networks?
Community Referral Networks (CRNs) are community care planning systems that provide referrals by and between community stakeholders (e.g., healthcare, social services, faith-based organizations) to help community members access essential resources. CRNs are enabled by a data architecture that facilitates coordinated referral, tracking, reporting and measurement.
Our Goals
We're working with communities across the country to re-design Community Referral Networks. We collaborate with partners to develop and spread new processes, practices and tools. These new approaches help individuals more easily access resources. They also help establish greater community ownership and ensure that technology isn't causing harm. Community Referral Networks capture a lot of data. We're unlocking the potential of this data to guide actions that improve health outcomes. This is a key component to advancing racial health equity.
Driving Community Information Exchange Thought Leadership
In partnership with 211 San Diego CIE, we co-lead several conferences driving discussions on intentionally centering community voices in local resource networks. We focus heavily on equity and anti-racism principles in multi-sector data sharing models.
Demonstrating How Technology Can Benefit Communities without Harm
We partnered with Microsoft Research's "Project Resolve." Through this collaboration, we showed how technological innovation can be co-designed and owned by communities – and how this can sustainably improve health.
Implementing a New Community Information Exchange
In Austin, TX, we participated in a multi-year engagement with the Michael & Susan Dell Foundation to offer strategic guidance on a community governance structure. We provided insight on future data analysis, advocacy and sustainability and convened a national cohort of similar organizations.
RePARE Community Networks Project
RePARE stands for Research to Pursue and Advance Racial Equity through Community Networks (RePARE). This project convenes 8 community networks across the country. The cohort shares emerging insights and best practices.
Args
post_type
post_status
publish
posts_per_page
1
post__not_in
tax_query

| | |
| --- | --- |
| 0 | Array ( [relation] => OR [0] => Array ( [taxonomy] => category [field] => slug [terms] => Array ( [0] => community-referral-networks ) [operator] => IN ) ) |

paged
1
orderby
meta_query
Module Settings
| | |
| --- | --- |
| post_type_choose | off|on|off|off|off|off|off|off|off|off|off |
| loop_style | custom_loop_layout |
| shortcode_name | [de_loop_template_shortcode] |
| loop_templates | divi-blog |
| custom_loop_template | none |
| loop_layout | 8720 |
| filter_update_animation | load-6 |
| no_posts_layout | none |
| no_posts_layout_text | Sorry, No posts. |
| is_main_loop | on |
| include_current_terms | off |
| show_empty_onload | off |
| post_status | publish |
| show_current_post | off |
| posts_number | 1 |
| post_offset | 0 |
| post_display_type | default |
| saved_type | wishlist |
| acf_linked_acf | none |
| related_content | categories |
| related_acf_field | none |
| related_content_categories | default |
| is_category_loop | off |
| disable_sticky_posts | off |
| specific_post_objects | off |
| related_content_tags | default |
| tax_name_related | none |
| acf_name_related | none |
| include_cats | community-referral-networks |
| custom_tax_choose | post |
| acf_name | none |
| include_sticky_posts | on |
| include_sticky_posts_only | off |
| onload_tax_choose | post |
| sort_order | date |
| acf_sort_field | none |
| acf_sort_type | string |
| acf_date_picker_field | none |
| acf_date_picker_method | default |
| acf_date_picker_custom_day | 30 |
| order_asc_desc | DESC |
| sec_acf_sort_field | none |
| sec_acf_sort_type | string |
| sec_acf_date_picker_field | none |
| sec_order_asc_desc | ASC |
| enable_loadmore | off |
| pagination_position | bottom |
| scrollto | on |
| scrollto_fine_tune | 0px |
| loadmore_text | Load More |
| loadmore_text_loading | Loading... |
| enable_resultcount | off |
| resultcount_position | right |
| result_count_single_text | Showing the single result |
| result_count_all_text | Showing all %d results |
| result_count_pagination_text | Showing %d-%d of %d results |
| has_map | off |
| map_all_posts | off |
| map_all_posts_limit | -1 |
| map_infoview_layout | none |
| map_infoview_layout_ajax | off |
| hide_marker_label | off |
| map_cluster | on |
| link_whole_gird | off |
| link_whole_gird_external | off |
| external_acf | none |
| content_section_layout | none |
| grid_layout | grid |
| columns | 1 |
| columns_tablet | 1 |
| columns_mobile | 1 |
| custom_gutter_width | off |
| grid_list_default | list |
| grid_list_position | left |
| grid_list_cookie_time | 30 |
| grid_view_icon | ||divi||400 |
| list_view_icon | ||fa||900 |
| icon_padding | 7px|7px|7px|7px |
| icon_margin | 0px|10px|0px|0px |
| enable_overlay | on |
| show_featured_image | on |
| show_read_more | off |
| read_more_text | Read More |
| show_author | on |
| show_date | on |
| date_format | F j, Y |
| show_categories | on |
| show_content | off |
| excerpt_length | 270 |
| excerpt_more | ... |
| show_comments | off |
| meta_separator | | |
| content_visibility | hover |
| image_hover_animation | none |
| loop_template_content_alignment | center_center |
| loop_template_color_theme | light |
| loop_template_same_height | on |
| image_min_height | 150px |
| image_max_height | 500px |
| _builder_version | 4.23 |
| _module_preset | default |
| title_font_size | 14px |
| title_letter_spacing | 0px |
| title_line_height | 1em |
| excerpt_font_size | 14px |
| excerpt_letter_spacing | 0px |
| excerpt_line_height | 1em |
| loop_template_meta_font_size | 14px |
| loop_template_meta_letter_spacing | 0px |
| loop_template_meta_line_height | 1em |
| loop_template_meta_a_font_size | 14px |
| loop_template_meta_a_letter_spacing | 0px |
| loop_template_meta_a_line_height | 1em |
| loop_template_a_font_size | 14px |
| loop_template_a_letter_spacing | 0px |
| loop_template_a_line_height | 1em |
| background_enable_color | on |
| use_background_color_gradient | off |
| background_color_gradient_repeat | off |
| background_color_gradient_type | linear |
| background_color_gradient_direction | 180deg |
| background_color_gradient_direction_radial | center |
| background_color_gradient_stops | #2b87da 0%|#29c4a9 100% |
| background_color_gradient_unit | % |
| background_color_gradient_overlays_image | off |
| background_color_gradient_start | #2b87da |
| background_color_gradient_start_position | 0% |
| background_color_gradient_end | #29c4a9 |
| background_color_gradient_end_position | 100% |
| background_enable_image | on |
| parallax | off |
| parallax_method | on |
| background_size | cover |
| background_image_width | auto |
| background_image_height | auto |
| background_position | center |
| background_horizontal_offset | 0 |
| background_vertical_offset | 0 |
| background_repeat | no-repeat |
| background_blend | normal |
| background_enable_video_mp4 | on |
| background_enable_video_webm | on |
| allow_player_pause | off |
| background_video_pause_outside_viewport | on |
| background_enable_pattern_style | off |
| background_pattern_style | polka-dots |
| background_pattern_color | rgba(0,0,0,0.2) |
| background_pattern_size | initial |
| background_pattern_width | auto |
| background_pattern_height | auto |
| background_pattern_repeat_origin | top_left |
| background_pattern_horizontal_offset | 0 |
| background_pattern_vertical_offset | 0 |
| background_pattern_repeat | repeat |
| background_pattern_blend_mode | normal |
| background_enable_mask_style | off |
| background_mask_style | layer-blob |
| background_mask_color | #ffffff |
| background_mask_aspect_ratio | landscape |
| background_mask_size | stretch |
| background_mask_width | auto |
| background_mask_height | auto |
| background_mask_position | center |
| background_mask_horizontal_offset | 0 |
| background_mask_vertical_offset | 0 |
| background_mask_blend_mode | normal |
| custom_button | off |
| button_text_size | 18 |
| button_bg_use_color_gradient | off |
| button_bg_color_gradient_repeat | off |
| button_bg_color_gradient_type | linear |
| button_bg_color_gradient_direction | 180deg |
| button_bg_color_gradient_direction_radial | center |
| button_bg_color_gradient_stops | #2b87da 0%|#29c4a9 100% |
| button_bg_color_gradient_unit | % |
| button_bg_color_gradient_overlays_image | off |
| button_bg_color_gradient_start | #2b87da |
| button_bg_color_gradient_start_position | 0% |
| button_bg_color_gradient_end | #29c4a9 |
| button_bg_color_gradient_end_position | 100% |
| button_bg_enable_image | on |
| button_bg_parallax | off |
| button_bg_parallax_method | on |
| button_bg_size | cover |
| button_bg_image_width | auto |
| button_bg_image_height | auto |
| button_bg_position | center |
| button_bg_horizontal_offset | 0 |
| button_bg_vertical_offset | 0 |
| button_bg_repeat | no-repeat |
| button_bg_blend | normal |
| button_bg_enable_video_mp4 | on |
| button_bg_enable_video_webm | on |
| button_bg_allow_player_pause | off |
| button_bg_video_pause_outside_viewport | on |
| button_use_icon | on |
| button_icon_placement | right |
| button_on_hover | on |
| positioning | none |
| position_origin_a | top_left |
| position_origin_f | top_left |
| position_origin_r | top_left |
| width | auto |
| max_width | none |
| min_height | auto |
| height | auto |
| max_height | none |
| filter_hue_rotate | 0deg |
| filter_saturate | 100% |
| filter_brightness | 100% |
| filter_contrast | 100% |
| filter_invert | 0% |
| filter_sepia | 0% |
| filter_opacity | 100% |
| filter_blur | 0px |
| mix_blend_mode | normal |
| animation_style | none |
| animation_direction | center |
| animation_duration | 1000ms |
| animation_delay | 0ms |
| animation_intensity_slide | 50% |
| animation_intensity_zoom | 50% |
| animation_intensity_flip | 50% |
| animation_intensity_fold | 50% |
| animation_intensity_roll | 50% |
| animation_starting_opacity | 0% |
| animation_speed_curve | ease-in-out |
| animation_repeat | once |
| hover_transition_duration | 300ms |
| hover_transition_delay | 0ms |
| hover_transition_speed_curve | ease |
| link_option_url_new_window | off |
| sticky_position | none |
| sticky_offset_top | 0px |
| sticky_offset_bottom | 0px |
| sticky_limit_top | none |
| sticky_limit_bottom | none |
| sticky_offset_surrounding | on |
| sticky_transition | on |
| motion_trigger_start | middle |
| hover_enabled | 0 |
| title_text_shadow_style | none |
| title_text_shadow_horizontal_length | 0em |
| title_text_shadow_vertical_length | 0em |
| title_text_shadow_blur_strength | 0em |
| title_text_shadow_color | rgba(0,0,0,0.4) |
| excerpt_text_shadow_style | none |
| excerpt_text_shadow_horizontal_length | 0em |
| excerpt_text_shadow_vertical_length | 0em |
| excerpt_text_shadow_blur_strength | 0em |
| excerpt_text_shadow_color | rgba(0,0,0,0.4) |
| loop_template_meta_text_shadow_style | none |
| loop_template_meta_text_shadow_horizontal_length | 0em |
| loop_template_meta_text_shadow_vertical_length | 0em |
| loop_template_meta_text_shadow_blur_strength | 0em |
| loop_template_meta_text_shadow_color | rgba(0,0,0,0.4) |
| loop_template_meta_a_text_shadow_style | none |
| loop_template_meta_a_text_shadow_horizontal_length | 0em |
| loop_template_meta_a_text_shadow_vertical_length | 0em |
| loop_template_meta_a_text_shadow_blur_strength | 0em |
| loop_template_meta_a_text_shadow_color | rgba(0,0,0,0.4) |
| loop_template_a_text_shadow_style | none |
| loop_template_a_text_shadow_horizontal_length | 0em |
| loop_template_a_text_shadow_vertical_length | 0em |
| loop_template_a_text_shadow_blur_strength | 0em |
| loop_template_a_text_shadow_color | rgba(0,0,0,0.4) |
| button_text_shadow_style | none |
| button_text_shadow_horizontal_length | 0em |
| button_text_shadow_vertical_length | 0em |
| button_text_shadow_blur_strength | 0em |
| button_text_shadow_color | rgba(0,0,0,0.4) |
| box_shadow_style | none |
| box_shadow_color | rgba(0,0,0,0.3) |
| box_shadow_position | outer |
| box_shadow_style_product | none |
| box_shadow_color_product | rgba(0,0,0,0.3) |
| box_shadow_position_product | outer |
| box_shadow_style_grid_list_view_button | none |
| box_shadow_color_grid_list_view_button | rgba(0,0,0,0.3) |
| box_shadow_position_grid_list_view_button | outer |
| box_shadow_style_button | none |
| box_shadow_color_button | rgba(0,0,0,0.3) |
| box_shadow_position_button | outer |
| text_shadow_style | none |
| text_shadow_horizontal_length | 0em |
| text_shadow_vertical_length | 0em |
| text_shadow_blur_strength | 0em |
| text_shadow_color | rgba(0,0,0,0.4) |
| disabled | off |
| global_colors_info | {} |
Args
post_type
post_status
publish
posts_per_page
1
post__not_in
tax_query

| | |
| --- | --- |
| 0 | Array ( [relation] => OR [0] => Array ( [taxonomy] => category [field] => slug [terms] => Array ( [0] => community-referral-networks ) [operator] => IN ) ) |

paged
1
orderby
meta_query
Module Settings
| | |
| --- | --- |
| post_type_choose | off|on|off|off|off|off|off|off|off|off|off |
| loop_style | custom_loop_layout |
| shortcode_name | [de_loop_template_shortcode] |
| loop_templates | divi-blog |
| custom_loop_template | none |
| loop_layout | 8720 |
| filter_update_animation | load-6 |
| no_posts_layout | none |
| no_posts_layout_text | Sorry, No posts. |
| is_main_loop | on |
| include_current_terms | off |
| show_empty_onload | off |
| post_status | publish |
| show_current_post | off |
| posts_number | 1 |
| post_offset | 1 |
| post_display_type | default |
| saved_type | wishlist |
| acf_linked_acf | none |
| related_content | categories |
| related_acf_field | none |
| related_content_categories | default |
| is_category_loop | off |
| disable_sticky_posts | off |
| specific_post_objects | off |
| related_content_tags | default |
| tax_name_related | none |
| acf_name_related | none |
| include_cats | community-referral-networks |
| custom_tax_choose | post |
| acf_name | none |
| include_sticky_posts | on |
| include_sticky_posts_only | off |
| onload_tax_choose | post |
| sort_order | date |
| acf_sort_field | none |
| acf_sort_type | string |
| acf_date_picker_field | none |
| acf_date_picker_method | default |
| acf_date_picker_custom_day | 30 |
| order_asc_desc | DESC |
| sec_acf_sort_field | none |
| sec_acf_sort_type | string |
| sec_acf_date_picker_field | none |
| sec_order_asc_desc | ASC |
| enable_loadmore | off |
| pagination_position | bottom |
| scrollto | on |
| scrollto_fine_tune | 0px |
| loadmore_text | Load More |
| loadmore_text_loading | Loading... |
| enable_resultcount | off |
| resultcount_position | right |
| result_count_single_text | Showing the single result |
| result_count_all_text | Showing all %d results |
| result_count_pagination_text | Showing %d-%d of %d results |
| has_map | off |
| map_all_posts | off |
| map_all_posts_limit | -1 |
| map_infoview_layout | none |
| map_infoview_layout_ajax | off |
| hide_marker_label | off |
| map_cluster | on |
| link_whole_gird | off |
| link_whole_gird_external | off |
| external_acf | none |
| content_section_layout | none |
| grid_layout | grid |
| columns | 1 |
| columns_tablet | 1 |
| columns_mobile | 1 |
| custom_gutter_width | off |
| grid_list_default | list |
| grid_list_position | left |
| grid_list_cookie_time | 30 |
| grid_view_icon | ||divi||400 |
| list_view_icon | ||fa||900 |
| icon_padding | 7px|7px|7px|7px |
| icon_margin | 0px|10px|0px|0px |
| enable_overlay | on |
| show_featured_image | on |
| show_read_more | off |
| read_more_text | Read More |
| show_author | on |
| show_date | on |
| date_format | F j, Y |
| show_categories | on |
| show_content | off |
| excerpt_length | 270 |
| excerpt_more | ... |
| show_comments | off |
| meta_separator | | |
| content_visibility | hover |
| image_hover_animation | none |
| loop_template_content_alignment | center_center |
| loop_template_color_theme | light |
| loop_template_same_height | on |
| image_min_height | 150px |
| image_max_height | 500px |
| admin_label | Archive Loop - Divi Machine (offset) |
| _builder_version | 4.23 |
| _module_preset | default |
| title_font_size | 14px |
| title_letter_spacing | 0px |
| title_line_height | 1em |
| excerpt_font_size | 14px |
| excerpt_letter_spacing | 0px |
| excerpt_line_height | 1em |
| loop_template_meta_font_size | 14px |
| loop_template_meta_letter_spacing | 0px |
| loop_template_meta_line_height | 1em |
| loop_template_meta_a_font_size | 14px |
| loop_template_meta_a_letter_spacing | 0px |
| loop_template_meta_a_line_height | 1em |
| loop_template_a_font_size | 14px |
| loop_template_a_letter_spacing | 0px |
| loop_template_a_line_height | 1em |
| background_enable_color | on |
| use_background_color_gradient | off |
| background_color_gradient_repeat | off |
| background_color_gradient_type | linear |
| background_color_gradient_direction | 180deg |
| background_color_gradient_direction_radial | center |
| background_color_gradient_stops | #2b87da 0%|#29c4a9 100% |
| background_color_gradient_unit | % |
| background_color_gradient_overlays_image | off |
| background_color_gradient_start | #2b87da |
| background_color_gradient_start_position | 0% |
| background_color_gradient_end | #29c4a9 |
| background_color_gradient_end_position | 100% |
| background_enable_image | on |
| parallax | off |
| parallax_method | on |
| background_size | cover |
| background_image_width | auto |
| background_image_height | auto |
| background_position | center |
| background_horizontal_offset | 0 |
| background_vertical_offset | 0 |
| background_repeat | no-repeat |
| background_blend | normal |
| background_enable_video_mp4 | on |
| background_enable_video_webm | on |
| allow_player_pause | off |
| background_video_pause_outside_viewport | on |
| background_enable_pattern_style | off |
| background_pattern_style | polka-dots |
| background_pattern_color | rgba(0,0,0,0.2) |
| background_pattern_size | initial |
| background_pattern_width | auto |
| background_pattern_height | auto |
| background_pattern_repeat_origin | top_left |
| background_pattern_horizontal_offset | 0 |
| background_pattern_vertical_offset | 0 |
| background_pattern_repeat | repeat |
| background_pattern_blend_mode | normal |
| background_enable_mask_style | off |
| background_mask_style | layer-blob |
| background_mask_color | #ffffff |
| background_mask_aspect_ratio | landscape |
| background_mask_size | stretch |
| background_mask_width | auto |
| background_mask_height | auto |
| background_mask_position | center |
| background_mask_horizontal_offset | 0 |
| background_mask_vertical_offset | 0 |
| background_mask_blend_mode | normal |
| custom_button | off |
| button_text_size | 18 |
| button_bg_use_color_gradient | off |
| button_bg_color_gradient_repeat | off |
| button_bg_color_gradient_type | linear |
| button_bg_color_gradient_direction | 180deg |
| button_bg_color_gradient_direction_radial | center |
| button_bg_color_gradient_stops | #2b87da 0%|#29c4a9 100% |
| button_bg_color_gradient_unit | % |
| button_bg_color_gradient_overlays_image | off |
| button_bg_color_gradient_start | #2b87da |
| button_bg_color_gradient_start_position | 0% |
| button_bg_color_gradient_end | #29c4a9 |
| button_bg_color_gradient_end_position | 100% |
| button_bg_enable_image | on |
| button_bg_parallax | off |
| button_bg_parallax_method | on |
| button_bg_size | cover |
| button_bg_image_width | auto |
| button_bg_image_height | auto |
| button_bg_position | center |
| button_bg_horizontal_offset | 0 |
| button_bg_vertical_offset | 0 |
| button_bg_repeat | no-repeat |
| button_bg_blend | normal |
| button_bg_enable_video_mp4 | on |
| button_bg_enable_video_webm | on |
| button_bg_allow_player_pause | off |
| button_bg_video_pause_outside_viewport | on |
| button_use_icon | on |
| button_icon_placement | right |
| button_on_hover | on |
| positioning | none |
| position_origin_a | top_left |
| position_origin_f | top_left |
| position_origin_r | top_left |
| width | auto |
| max_width | none |
| min_height | auto |
| height | auto |
| max_height | none |
| filter_hue_rotate | 0deg |
| filter_saturate | 100% |
| filter_brightness | 100% |
| filter_contrast | 100% |
| filter_invert | 0% |
| filter_sepia | 0% |
| filter_opacity | 100% |
| filter_blur | 0px |
| mix_blend_mode | normal |
| animation_style | none |
| animation_direction | center |
| animation_duration | 1000ms |
| animation_delay | 0ms |
| animation_intensity_slide | 50% |
| animation_intensity_zoom | 50% |
| animation_intensity_flip | 50% |
| animation_intensity_fold | 50% |
| animation_intensity_roll | 50% |
| animation_starting_opacity | 0% |
| animation_speed_curve | ease-in-out |
| animation_repeat | once |
| hover_transition_duration | 300ms |
| hover_transition_delay | 0ms |
| hover_transition_speed_curve | ease |
| link_option_url_new_window | off |
| sticky_position | none |
| sticky_offset_top | 0px |
| sticky_offset_bottom | 0px |
| sticky_limit_top | none |
| sticky_limit_bottom | none |
| sticky_offset_surrounding | on |
| sticky_transition | on |
| motion_trigger_start | middle |
| hover_enabled | 0 |
| title_text_shadow_style | none |
| title_text_shadow_horizontal_length | 0em |
| title_text_shadow_vertical_length | 0em |
| title_text_shadow_blur_strength | 0em |
| title_text_shadow_color | rgba(0,0,0,0.4) |
| excerpt_text_shadow_style | none |
| excerpt_text_shadow_horizontal_length | 0em |
| excerpt_text_shadow_vertical_length | 0em |
| excerpt_text_shadow_blur_strength | 0em |
| excerpt_text_shadow_color | rgba(0,0,0,0.4) |
| loop_template_meta_text_shadow_style | none |
| loop_template_meta_text_shadow_horizontal_length | 0em |
| loop_template_meta_text_shadow_vertical_length | 0em |
| loop_template_meta_text_shadow_blur_strength | 0em |
| loop_template_meta_text_shadow_color | rgba(0,0,0,0.4) |
| loop_template_meta_a_text_shadow_style | none |
| loop_template_meta_a_text_shadow_horizontal_length | 0em |
| loop_template_meta_a_text_shadow_vertical_length | 0em |
| loop_template_meta_a_text_shadow_blur_strength | 0em |
| loop_template_meta_a_text_shadow_color | rgba(0,0,0,0.4) |
| loop_template_a_text_shadow_style | none |
| loop_template_a_text_shadow_horizontal_length | 0em |
| loop_template_a_text_shadow_vertical_length | 0em |
| loop_template_a_text_shadow_blur_strength | 0em |
| loop_template_a_text_shadow_color | rgba(0,0,0,0.4) |
| button_text_shadow_style | none |
| button_text_shadow_horizontal_length | 0em |
| button_text_shadow_vertical_length | 0em |
| button_text_shadow_blur_strength | 0em |
| button_text_shadow_color | rgba(0,0,0,0.4) |
| box_shadow_style | none |
| box_shadow_color | rgba(0,0,0,0.3) |
| box_shadow_position | outer |
| box_shadow_style_product | none |
| box_shadow_color_product | rgba(0,0,0,0.3) |
| box_shadow_position_product | outer |
| box_shadow_style_grid_list_view_button | none |
| box_shadow_color_grid_list_view_button | rgba(0,0,0,0.3) |
| box_shadow_position_grid_list_view_button | outer |
| box_shadow_style_button | none |
| box_shadow_color_button | rgba(0,0,0,0.3) |
| box_shadow_position_button | outer |
| text_shadow_style | none |
| text_shadow_horizontal_length | 0em |
| text_shadow_vertical_length | 0em |
| text_shadow_blur_strength | 0em |
| text_shadow_color | rgba(0,0,0,0.4) |
| disabled | off |
| global_colors_info | {} |