Tackling racial health equity challenges in partnership offers an incredible opportunity to learn from and with each other — and make a greater impact.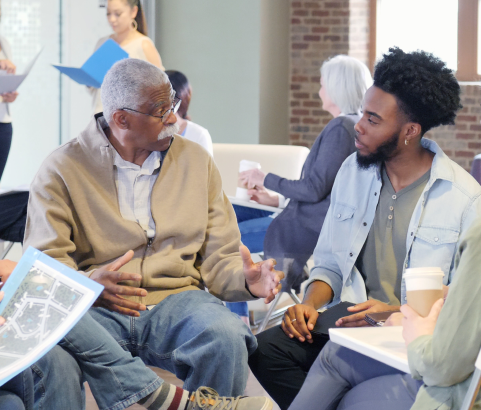 From public health to healthcare to drug developers to philanthropic organizations, many more organizations today are investing in and committed to advancing racial health equity. While the increased appetite across sectors to engage in deep, systemic anti-racist work is critical, it can be hard to know the best next step, or how to meaningfully engage the community — and even well-intentioned efforts can have unintended consequences.
$179 billion
has been invested by the U.S. government, philanthropic organizations and corporations over the last 20 years to advance health equity.
Our Approach
We understand the complexities of racial health equity work. We know how to build strong partnerships that enable us to collectively untangle the systemic racism that some might not see, feel or even recognize. That requires honest and sometimes tough conversations delivered with care and value alignment around the challenges we're tackling. We're eager to work with a range of organizations to create or advance root-cause-focused racial health equity initiatives in communities across the U.S.
Our Work
For over 20 years, we've consulted with a range of organizations. We've worked on everything from data collection projects to community health worker training and support. We've worked on technology implementations, grantmaking, and resource development. The list goes on. What our work always has in common is working in deep, honest relationship with our partners and prioritizing community leaders, organizations and workforces who know best what they need to be healthy.
Targeted Trainings
We've designed and delivered trainings to support community-based health workers, maternal health advocates, clinical trial professionals and many others.
Learning Collaboratives
We bring together like-minded learners, both locally and nationally, to tackle key equity challenges and grow together.
Convening & Facilitation
From local advocacy like housing or food justice, to national cohorts around philanthropy and pandemic response, we bring groups together to drive collective action.
Strategic Counsel & Design
Our deep bench of health equity, public health and community advocates can support organizations committed to challenging and redesigning systems.
Tools & Resources Development
We develop and share toolkits, how-to guides and webinars from our equity projects — all uplifting community voices.
Our Resources
Sharing our learnings to advance the work of racial health equity is key to our mission and strategy — so we are committed to developing and sharing key tools and resources from our partnerships.
Our Work
We are driving meaningful change to achieve racial health equity. Learn more about our work.