Patient-Centered Care: Elements, Benefits and Examples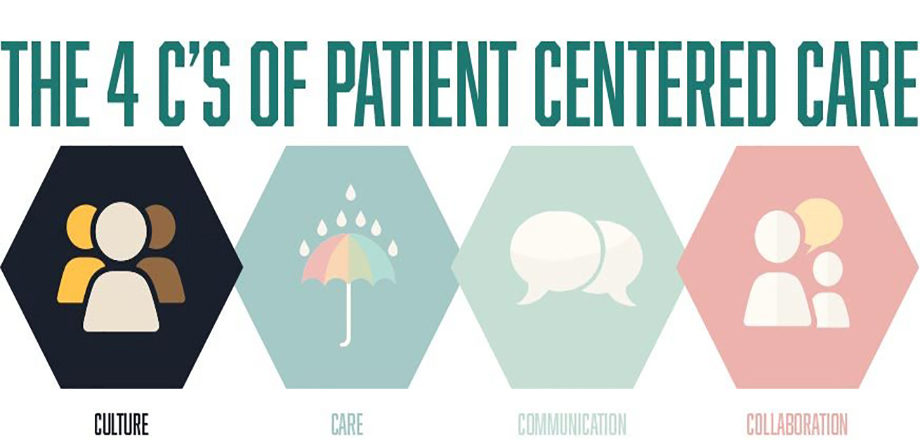 The Institute of Medicine defines patient-centered care as "Providing care that is respectful of, and responsive to, individual patient preferences, needs and values, and ensuring that patient values guide all clinical decisions." This approach requires a true partnership between individuals and their healthcare providers, one where the individual's needs and aspirations drive both healthcare decisions and how outcomes are measured.
Under a patient-centered model model, care teams work to know and treat the full patient — developing individualized, comprehensive care plans in which mental health and social needs receive equal attention to traditional medical treatment. As the overview from NEJM Catalyst states, patient- or family-centered care plans prompt health systems to rethink their approach to healthcare delivery — bringing new attention to active collaboration and shared decision-making with patients.
Among the common elements of effective patient-centered care plans:
The health system's mission, vision, values, leadership, and quality-improvement drivers are aligned to patient-centered goals.
Care is collaborative, coordinated, and accessible. The right care is provided at the right time and the right place.
Care focuses on physical comfort as well as emotional well-being.
Patient and family preferences, values, cultural traditions, and socioeconomic conditions are respected.
Patients and their families are an expected part of the care team and play a role in decisions at the patient and system level.
The presence of family members in the care setting is encouraged and facilitated.
Information is shared fully and in a timely manner so that patients and their family members can make informed decisions.
While the primary goal of any patient-centered care plan is to improve individual health outcomes, healthcare providers also stand to benefit through improved patient satisfaction scores, higher staff productivity and morale, reductions in the overall cost of care, and more. This makes patient- or family-centered care an approach worth exploring in almost any healthcare delivery setting.
Read the Full Article in Catalyst
Additional Resources
The American Academy of Family Physicians has created a useful template questionnaire to help health healthcare providers craft patient-centered care plans.
Args
| | |
| --- | --- |
| post_type | |
| post_status | publish |
| posts_per_page | 4 |
| meta_query | |
| cat | |
| post__not_in | |
| orderby | |
Module Settings
| | |
| --- | --- |
| post_type_choose | off|on|off|off|off|off|off|off|off|off|off |
| loop_style | custom_loop_layout |
| shortcode_name | [de_loop_template_shortcode] |
| loop_templates | divi-blog |
| custom_loop_template | none |
| loop_layout | 8931 |
| filter_update_animation | load-6 |
| no_posts_layout | none |
| no_posts_layout_text | Sorry, No posts. |
| is_main_loop | off |
| include_current_terms | off |
| show_empty_onload | off |
| post_status | publish |
| show_current_post | off |
| posts_number | 4 |
| post_offset | 0 |
| post_display_type | related |
| saved_type | wishlist |
| acf_linked_acf | none |
| related_content | categories |
| related_acf_field | none |
| related_content_categories | post_cats |
| is_category_loop | off |
| disable_sticky_posts | off |
| specific_post_objects | off |
| related_content_tags | default |
| tax_name_related | none |
| acf_name_related | none |
| custom_tax_choose | post |
| acf_name | none |
| include_sticky_posts | on |
| include_sticky_posts_only | off |
| onload_tax_choose | post |
| sort_order | date |
| acf_sort_field | none |
| acf_sort_type | string |
| acf_date_picker_field | none |
| acf_date_picker_method | default |
| acf_date_picker_custom_day | 30 |
| order_asc_desc | ASC |
| sec_acf_sort_field | none |
| sec_acf_sort_type | string |
| sec_acf_date_picker_field | none |
| sec_order_asc_desc | ASC |
| enable_loadmore | off |
| pagination_position | bottom |
| scrollto | on |
| scrollto_fine_tune | 0px |
| loadmore_text | Load More |
| loadmore_text_loading | Loading... |
| enable_resultcount | off |
| resultcount_position | right |
| result_count_single_text | Showing the single result |
| result_count_all_text | Showing all %d results |
| result_count_pagination_text | Showing %d-%d of %d results |
| has_map | off |
| map_all_posts | off |
| map_all_posts_limit | -1 |
| map_infoview_layout | none |
| map_infoview_layout_ajax | off |
| hide_marker_label | off |
| map_cluster | on |
| link_whole_gird | off |
| link_whole_gird_external | off |
| external_acf | none |
| content_section_layout | none |
| grid_layout | grid |
| columns | 4 |
| columns_tablet | 2 |
| columns_mobile | 1 |
| custom_gutter_width | off |
| grid_list_default | list |
| grid_list_position | left |
| grid_list_cookie_time | 30 |
| grid_view_icon | ||divi||400 |
| list_view_icon | ||fa||900 |
| icon_padding | 7px|7px|7px|7px |
| icon_margin | 0px|10px|0px|0px |
| enable_overlay | on |
| show_featured_image | on |
| show_read_more | off |
| read_more_text | Read More |
| show_author | on |
| show_date | on |
| date_format | F j, Y |
| show_categories | on |
| show_content | off |
| excerpt_length | 270 |
| excerpt_more | ... |
| show_comments | off |
| meta_separator | | |
| content_visibility | hover |
| image_hover_animation | none |
| loop_template_content_alignment | center_center |
| loop_template_color_theme | light |
| loop_template_same_height | on |
| image_min_height | 150px |
| image_max_height | 500px |
| _builder_version | 4.21.0 |
| _module_preset | default |
| title_font_size | 14px |
| title_letter_spacing | 0px |
| title_line_height | 1em |
| excerpt_font_size | 14px |
| excerpt_letter_spacing | 0px |
| excerpt_line_height | 1em |
| loop_template_meta_font_size | 14px |
| loop_template_meta_letter_spacing | 0px |
| loop_template_meta_line_height | 1em |
| loop_template_meta_a_font_size | 14px |
| loop_template_meta_a_letter_spacing | 0px |
| loop_template_meta_a_line_height | 1em |
| loop_template_a_font_size | 14px |
| loop_template_a_letter_spacing | 0px |
| loop_template_a_line_height | 1em |
| background_enable_color | on |
| use_background_color_gradient | off |
| background_color_gradient_repeat | off |
| background_color_gradient_type | linear |
| background_color_gradient_direction | 180deg |
| background_color_gradient_direction_radial | center |
| background_color_gradient_stops | #2b87da 0%|#29c4a9 100% |
| background_color_gradient_unit | % |
| background_color_gradient_overlays_image | off |
| background_color_gradient_start | #2b87da |
| background_color_gradient_start_position | 0% |
| background_color_gradient_end | #29c4a9 |
| background_color_gradient_end_position | 100% |
| background_enable_image | on |
| parallax | off |
| parallax_method | on |
| background_size | cover |
| background_image_width | auto |
| background_image_height | auto |
| background_position | center |
| background_horizontal_offset | 0 |
| background_vertical_offset | 0 |
| background_repeat | no-repeat |
| background_blend | normal |
| background_enable_video_mp4 | on |
| background_enable_video_webm | on |
| allow_player_pause | off |
| background_video_pause_outside_viewport | on |
| background_enable_pattern_style | off |
| background_pattern_style | polka-dots |
| background_pattern_color | rgba(0,0,0,0.2) |
| background_pattern_size | initial |
| background_pattern_width | auto |
| background_pattern_height | auto |
| background_pattern_repeat_origin | top_left |
| background_pattern_horizontal_offset | 0 |
| background_pattern_vertical_offset | 0 |
| background_pattern_repeat | repeat |
| background_pattern_blend_mode | normal |
| background_enable_mask_style | off |
| background_mask_style | layer-blob |
| background_mask_color | #ffffff |
| background_mask_aspect_ratio | landscape |
| background_mask_size | stretch |
| background_mask_width | auto |
| background_mask_height | auto |
| background_mask_position | center |
| background_mask_horizontal_offset | 0 |
| background_mask_vertical_offset | 0 |
| background_mask_blend_mode | normal |
| custom_button | off |
| button_text_size | 18 |
| button_bg_use_color_gradient | off |
| button_bg_color_gradient_repeat | off |
| button_bg_color_gradient_type | linear |
| button_bg_color_gradient_direction | 180deg |
| button_bg_color_gradient_direction_radial | center |
| button_bg_color_gradient_stops | #2b87da 0%|#29c4a9 100% |
| button_bg_color_gradient_unit | % |
| button_bg_color_gradient_overlays_image | off |
| button_bg_color_gradient_start | #2b87da |
| button_bg_color_gradient_start_position | 0% |
| button_bg_color_gradient_end | #29c4a9 |
| button_bg_color_gradient_end_position | 100% |
| button_bg_enable_image | on |
| button_bg_parallax | off |
| button_bg_parallax_method | on |
| button_bg_size | cover |
| button_bg_image_width | auto |
| button_bg_image_height | auto |
| button_bg_position | center |
| button_bg_horizontal_offset | 0 |
| button_bg_vertical_offset | 0 |
| button_bg_repeat | no-repeat |
| button_bg_blend | normal |
| button_bg_enable_video_mp4 | on |
| button_bg_enable_video_webm | on |
| button_bg_allow_player_pause | off |
| button_bg_video_pause_outside_viewport | on |
| button_use_icon | on |
| button_icon_placement | right |
| button_on_hover | on |
| positioning | none |
| position_origin_a | top_left |
| position_origin_f | top_left |
| position_origin_r | top_left |
| width | auto |
| max_width | none |
| min_height | auto |
| height | auto |
| max_height | none |
| filter_hue_rotate | 0deg |
| filter_saturate | 100% |
| filter_brightness | 100% |
| filter_contrast | 100% |
| filter_invert | 0% |
| filter_sepia | 0% |
| filter_opacity | 100% |
| filter_blur | 0px |
| mix_blend_mode | normal |
| animation_style | none |
| animation_direction | center |
| animation_duration | 1000ms |
| animation_delay | 0ms |
| animation_intensity_slide | 50% |
| animation_intensity_zoom | 50% |
| animation_intensity_flip | 50% |
| animation_intensity_fold | 50% |
| animation_intensity_roll | 50% |
| animation_starting_opacity | 0% |
| animation_speed_curve | ease-in-out |
| animation_repeat | once |
| hover_transition_duration | 300ms |
| hover_transition_delay | 0ms |
| hover_transition_speed_curve | ease |
| link_option_url_new_window | off |
| sticky_position | none |
| sticky_offset_top | 0px |
| sticky_offset_bottom | 0px |
| sticky_limit_top | none |
| sticky_limit_bottom | none |
| sticky_offset_surrounding | on |
| sticky_transition | on |
| motion_trigger_start | middle |
| hover_enabled | 0 |
| title_text_shadow_style | none |
| title_text_shadow_horizontal_length | 0em |
| title_text_shadow_vertical_length | 0em |
| title_text_shadow_blur_strength | 0em |
| title_text_shadow_color | rgba(0,0,0,0.4) |
| excerpt_text_shadow_style | none |
| excerpt_text_shadow_horizontal_length | 0em |
| excerpt_text_shadow_vertical_length | 0em |
| excerpt_text_shadow_blur_strength | 0em |
| excerpt_text_shadow_color | rgba(0,0,0,0.4) |
| loop_template_meta_text_shadow_style | none |
| loop_template_meta_text_shadow_horizontal_length | 0em |
| loop_template_meta_text_shadow_vertical_length | 0em |
| loop_template_meta_text_shadow_blur_strength | 0em |
| loop_template_meta_text_shadow_color | rgba(0,0,0,0.4) |
| loop_template_meta_a_text_shadow_style | none |
| loop_template_meta_a_text_shadow_horizontal_length | 0em |
| loop_template_meta_a_text_shadow_vertical_length | 0em |
| loop_template_meta_a_text_shadow_blur_strength | 0em |
| loop_template_meta_a_text_shadow_color | rgba(0,0,0,0.4) |
| loop_template_a_text_shadow_style | none |
| loop_template_a_text_shadow_horizontal_length | 0em |
| loop_template_a_text_shadow_vertical_length | 0em |
| loop_template_a_text_shadow_blur_strength | 0em |
| loop_template_a_text_shadow_color | rgba(0,0,0,0.4) |
| button_text_shadow_style | none |
| button_text_shadow_horizontal_length | 0em |
| button_text_shadow_vertical_length | 0em |
| button_text_shadow_blur_strength | 0em |
| button_text_shadow_color | rgba(0,0,0,0.4) |
| box_shadow_style | none |
| box_shadow_color | rgba(0,0,0,0.3) |
| box_shadow_position | outer |
| box_shadow_style_product | none |
| box_shadow_color_product | rgba(0,0,0,0.3) |
| box_shadow_position_product | outer |
| box_shadow_style_grid_list_view_button | none |
| box_shadow_color_grid_list_view_button | rgba(0,0,0,0.3) |
| box_shadow_position_grid_list_view_button | outer |
| box_shadow_style_button | none |
| box_shadow_color_button | rgba(0,0,0,0.3) |
| box_shadow_position_button | outer |
| text_shadow_style | none |
| text_shadow_horizontal_length | 0em |
| text_shadow_vertical_length | 0em |
| text_shadow_blur_strength | 0em |
| text_shadow_color | rgba(0,0,0,0.4) |
| disabled | off |
| global_colors_info | {} |