Data Democratization: The Unsung Hero of Health Equity
Data democratization might sound complicated but its definition is simple: make information accessible to people regardless of whether they have an analytics or IT background or special software to be able to make sense of that data. Put simply, remove the bottlenecks and put information in the hands of communities.
A growing number of communities have proven that data in the hands of its residents empowers them to improve structures, overcome barriers and increase opportunities to thrive. As the COVID-19 pandemic shines a light on how data can both help and harm communities, democratizing data will be key to our ability to respond and rebuild. Even with inconsistencies in state level requirements to include demographic data to understand COVID-19 trends by race, we have already seen how the pandemic is disproportionately impacting people of color. While the spread of the pandemic has been a shared concern for all of the American public, the mortality rate for Black Americans is 2.3 times as high as white Americans. Furthermore, data are limited in availability for Indigenous Americans who are often left out of demographic categories, but from what has been collected, the mortality rate is far greater for Indigenous people than white people in states like New Mexico and Arizona. 
These mortality rates exacerbate pre-existing inequities in health as well as already strained essential resource infrastructures. In this context, it is not difficult to see why the people most impacted by racial inequities would hesitate to share their information with systems that are managed, controlled, and owned by everyone other than themselves and their communities. 
Now lay alongside that a different picture. Imagine what it could feel like for someone to design, manage, access and own data around essentials like healthcare, food and education. How would data sharing change if people knew it would be used to ensure the community is reflected in  how we improve systems (and hold those systems accountable)? The feeling shifts from one of distrust how other entities use data to confidence as part of a decision making body that directs how data are used. 
Data Democratization Changes Power Structures
Data democratization has a profound intersection with racial equity, histories of trauma and data extraction. It is a crucial step in dismantling existing structures of power and returning control of data to the people that allow it to exist. Black Americans, Indigenous Americans, and Latinx Americans bear a disproportionate burden of disease, educational inequities, and every other thing that a researcher or organization invested in equity might be interested in. As a result, they have long been surveyed, interviewed, and canvassed. (Intersections between demographic categories is another post entirely; some examples include this exploration of Latinx and Indigenous identities as well as this article on AfroLatinx identities.) And while some of these efforts are intended to better understand what is driving systemic inequities, it is little wonder why people might feel a sense of "not again" when recruited for another focus group or design session. 
One problem lies in the impact of continual asks and the context of those asks. This often involves short deployments of research teams without long-term relationship development, little accountability to provide the results of those research efforts and drive discussion about the results, and the stripping away of agency or self-determination. Agency is an individual's power to make decisions about their own life, such as prioritizing which essential resources they want to pursue (like food, employment, child care, etc), and in what order, but it can also apply more broadly to the idea that communities, tribes or nations should be able to determine their own statehood or governance. Both at the individual and collective level, structural racism and colonialism have robbed – by force and violence – people of their self-determination.
Data democratization can be an act of moving back to agency. Paulo Freire described this decades ago in Pedagogy of the Oppressed when he wrote, "No pedagogy which is truly liberating can remain distant from the oppressed by treating them as unfortunates and by presenting for their emulation models from among the oppressors. The oppressed must be their own example in the struggle for their redemption" (1970, p. 54). Today, the work continues.
Democratizing data changes the power dynamic with residents. Owning data and shaping the narrative about data's past, present and future means that communities of color are not described as subjects of study, but rather as empowered storytellers who are demonstrating models for liberation. This concept is critical to many of the models at the center of the Black Lives Matter movement and calls for action within the movement such as "Defund the Police" that aim to reallocate budget to other resources communities define as key to living healthy and safe lives. 
Data Democratization is Happening 
In my work at Health Leads, I have a front row seat to some of the most exciting demonstrations and advancements in data democratization. They range from multi-institution or system-wide efforts to grassroots collectives – because regardless of assets and challenges, there is a way forward for all of us who are invested in advancing racial equity to dig deeper into data democratization.  
The Orange County Environmental Justice (OCEJ) is invested in community-driven collection, interpretation, and leveraging of data related to environmental justice. OCEJ members shape the organization's activities and possess the power to make collective decisions through several means: 
Hiring from within the community and building relationships that activate "the power within each of us" to fight for social and political change; 

Members are part of the organization's governance and also receive support from other members and partners to survey their own neighborhoods, analyze, and summarize findings; 

Additionally, members have been engaged in visual methods, taking photographs of pollution and its impact on their daily lives. 
By organizing their membership structure into one of community governance, all of the activities and advocacy directions come from residents who are impacted by issues related to soil, air, and water. The group holds existing policies accountable while also pushing for systemic changes that improve the environment. While OCEJ has had to pivot much of their in-person organizing efforts to online meetings during shelter in place orders, they have continued to collect photographs, interpret how power and privilege show up through water access and quality, and engage in storytelling using visual imagery. Interpretation of themes and key environmental issue areas is woven into community governance and the structure necessary to be the owners, interpreters, and storytellers of their own data. This is just one of a growing number of examples of how community-driven and owned data leads to sustained engagement and advocacy in changing local systems
A countywide effort that brings together smaller community based organizations with large health systems and social services is the Community Information Exchange (CIE) in San Diego. Members of the CIE utilize real-time data shared across a diverse group of regional stakeholders (i.e. food pantries, child care organizations, public health departments, etc) to better coordinate care across sectors. An individual who participates in the CIE opts in (vs. a default function that requires opting out). They decide whether they want to share data across agencies and systems who want to coordinate; in doing so, a person might then put the onus on organizations and systems to collaborate so that they do not have to repeat their story over and over again. This is useful on any given day, but has become especially pronounced during COVID-19 and other emergencies such as wildfires when the resource landscape changes drastically and quickly when people need accurate and up to date information the most, regardless of which agency they are speaking with and how updated their sector's system is. For example, if I am a resident of San Diego experiencing food insecurity, part of the CIE, and I enter a local health clinic, their team can see that I have also recently visited a local food bank and Women, Infants, and Children (WIC) office to apply for nutritional benefits for my family. Now, each local service provider has a much fuller picture of what is happening for an individual and for the community. The CIE is also developing a resident-facing portal that allows individuals to see for themselves how data are being used.

Streetwyze is an innovative mobile app that allows community members to find critical resources, and share their stories on what's working and not working in their neighborhoods through pictures, videos, and written posts. Called a "Fitbit for Neighborhoods," Streetwyze puts the power of real-time data, digital story-telling, and two-way feedback loops in the hands of community members and the providers that care for them.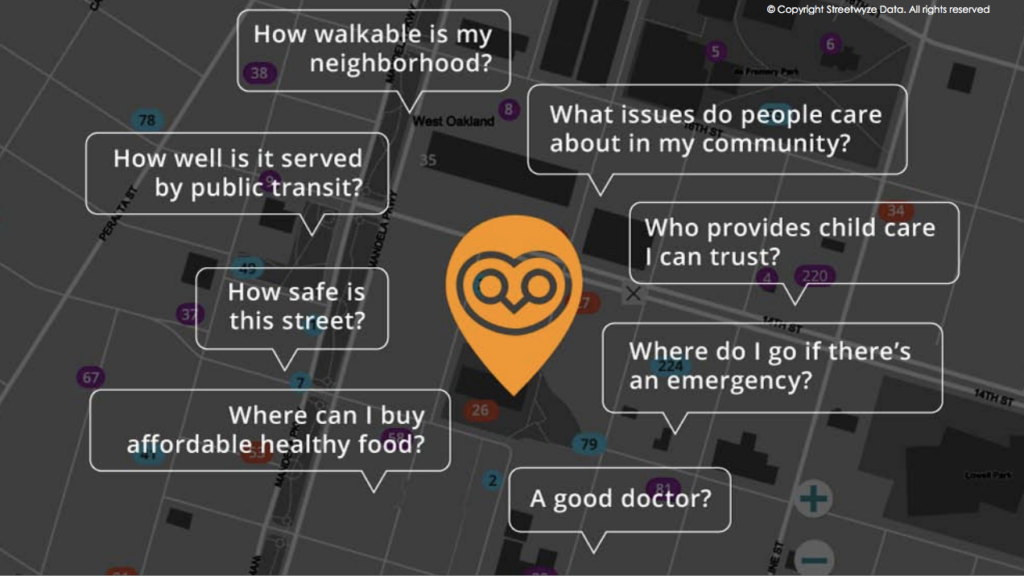 Community groups locally, regionally, nationally and internationally have demonstrated how community members can use their own data to mobilize for action and achieve transformative change – in programs, policies, services – in ways that were previously not possible. To respond to racial equity concerns surrounding the coronavirus in real-time, Streetwyze has launched a COVID-response initiative. 
The West Philadelphia Promise Zone is developing a Community Research Review Board (CRRB), along with its community-driven Promise Zone Research Connection committee, to make all research accountable to community members (not just the researchers' university or government institutional review board). While projects go through institutional review to ensure adherence to research ethics, they can sometimes be specific to university governance or civic oversight. Those are both critical pieces, but the people reviewing the projects may not be from the communities where the study is being conducted, nor require regular progress updates and feedback as a means of determining how much the promise of the project is truly delivering in a way that community members see as right and just. A community research review board is one concrete way of shifting data governance and data trust principles to ensure that approval and decision making power lies in the hands of community members. In the case of the Promise Zone CRRB, development is also being supported by the community-engaged research processes and community resident study personnel of the West Philly Promise Neighborhood.
Up Next: Where to Start and Overcoming Challenges 
As the world reckons with data – and the lack thereof – around how the COVID-19 pandemic is impacting communities, and systems like public safety, health and education are being re-imagined to overcome years of oppression and racism, creating opportunities to democratize data has never been more critical. Like most of the things in the world that beckon change and action, the concept of data democratization is simple, but the pathway there is often unclear. My next article will share recommended first steps, as well as the specific data democratization challenges that our own teams have observed and experienced, in the hopes of providing a running start. 
Args
| | |
| --- | --- |
| post_type | |
| post_status | publish |
| posts_per_page | 4 |
| meta_query | |
| cat | |
| post__not_in | |
| orderby | |
Module Settings
| | |
| --- | --- |
| post_type_choose | off|on|off|off|off|off|off|off|off|off|off |
| loop_style | custom_loop_layout |
| shortcode_name | [de_loop_template_shortcode] |
| loop_templates | divi-blog |
| custom_loop_template | none |
| loop_layout | 8931 |
| filter_update_animation | load-6 |
| no_posts_layout | none |
| no_posts_layout_text | Sorry, No posts. |
| is_main_loop | off |
| include_current_terms | off |
| show_empty_onload | off |
| post_status | publish |
| show_current_post | off |
| posts_number | 4 |
| post_offset | 0 |
| post_display_type | related |
| saved_type | wishlist |
| acf_linked_acf | none |
| related_content | categories |
| related_acf_field | none |
| related_content_categories | post_cats |
| is_category_loop | off |
| disable_sticky_posts | off |
| specific_post_objects | off |
| related_content_tags | default |
| tax_name_related | none |
| acf_name_related | none |
| custom_tax_choose | post |
| acf_name | none |
| include_sticky_posts | on |
| include_sticky_posts_only | off |
| onload_tax_choose | post |
| sort_order | date |
| acf_sort_field | none |
| acf_sort_type | string |
| acf_date_picker_field | none |
| acf_date_picker_method | default |
| acf_date_picker_custom_day | 30 |
| order_asc_desc | ASC |
| sec_acf_sort_field | none |
| sec_acf_sort_type | string |
| sec_acf_date_picker_field | none |
| sec_order_asc_desc | ASC |
| enable_loadmore | off |
| pagination_position | bottom |
| scrollto | on |
| scrollto_fine_tune | 0px |
| loadmore_text | Load More |
| loadmore_text_loading | Loading... |
| enable_resultcount | off |
| resultcount_position | right |
| result_count_single_text | Showing the single result |
| result_count_all_text | Showing all %d results |
| result_count_pagination_text | Showing %d-%d of %d results |
| has_map | off |
| map_all_posts | off |
| map_all_posts_limit | -1 |
| map_infoview_layout | none |
| map_infoview_layout_ajax | off |
| hide_marker_label | off |
| map_cluster | on |
| link_whole_gird | off |
| link_whole_gird_external | off |
| external_acf | none |
| content_section_layout | none |
| grid_layout | grid |
| columns | 4 |
| columns_tablet | 2 |
| columns_mobile | 1 |
| custom_gutter_width | off |
| grid_list_default | list |
| grid_list_position | left |
| grid_list_cookie_time | 30 |
| grid_view_icon | ||divi||400 |
| list_view_icon | ||fa||900 |
| icon_padding | 7px|7px|7px|7px |
| icon_margin | 0px|10px|0px|0px |
| enable_overlay | on |
| show_featured_image | on |
| show_read_more | off |
| read_more_text | Read More |
| show_author | on |
| show_date | on |
| date_format | F j, Y |
| show_categories | on |
| show_content | off |
| excerpt_length | 270 |
| excerpt_more | ... |
| show_comments | off |
| meta_separator | | |
| content_visibility | hover |
| image_hover_animation | none |
| loop_template_content_alignment | center_center |
| loop_template_color_theme | light |
| loop_template_same_height | on |
| image_min_height | 150px |
| image_max_height | 500px |
| _builder_version | 4.21.0 |
| _module_preset | default |
| title_font_size | 14px |
| title_letter_spacing | 0px |
| title_line_height | 1em |
| excerpt_font_size | 14px |
| excerpt_letter_spacing | 0px |
| excerpt_line_height | 1em |
| loop_template_meta_font_size | 14px |
| loop_template_meta_letter_spacing | 0px |
| loop_template_meta_line_height | 1em |
| loop_template_meta_a_font_size | 14px |
| loop_template_meta_a_letter_spacing | 0px |
| loop_template_meta_a_line_height | 1em |
| loop_template_a_font_size | 14px |
| loop_template_a_letter_spacing | 0px |
| loop_template_a_line_height | 1em |
| background_enable_color | on |
| use_background_color_gradient | off |
| background_color_gradient_repeat | off |
| background_color_gradient_type | linear |
| background_color_gradient_direction | 180deg |
| background_color_gradient_direction_radial | center |
| background_color_gradient_stops | #2b87da 0%|#29c4a9 100% |
| background_color_gradient_unit | % |
| background_color_gradient_overlays_image | off |
| background_color_gradient_start | #2b87da |
| background_color_gradient_start_position | 0% |
| background_color_gradient_end | #29c4a9 |
| background_color_gradient_end_position | 100% |
| background_enable_image | on |
| parallax | off |
| parallax_method | on |
| background_size | cover |
| background_image_width | auto |
| background_image_height | auto |
| background_position | center |
| background_horizontal_offset | 0 |
| background_vertical_offset | 0 |
| background_repeat | no-repeat |
| background_blend | normal |
| background_enable_video_mp4 | on |
| background_enable_video_webm | on |
| allow_player_pause | off |
| background_video_pause_outside_viewport | on |
| background_enable_pattern_style | off |
| background_pattern_style | polka-dots |
| background_pattern_color | rgba(0,0,0,0.2) |
| background_pattern_size | initial |
| background_pattern_width | auto |
| background_pattern_height | auto |
| background_pattern_repeat_origin | top_left |
| background_pattern_horizontal_offset | 0 |
| background_pattern_vertical_offset | 0 |
| background_pattern_repeat | repeat |
| background_pattern_blend_mode | normal |
| background_enable_mask_style | off |
| background_mask_style | layer-blob |
| background_mask_color | #ffffff |
| background_mask_aspect_ratio | landscape |
| background_mask_size | stretch |
| background_mask_width | auto |
| background_mask_height | auto |
| background_mask_position | center |
| background_mask_horizontal_offset | 0 |
| background_mask_vertical_offset | 0 |
| background_mask_blend_mode | normal |
| custom_button | off |
| button_text_size | 18 |
| button_bg_use_color_gradient | off |
| button_bg_color_gradient_repeat | off |
| button_bg_color_gradient_type | linear |
| button_bg_color_gradient_direction | 180deg |
| button_bg_color_gradient_direction_radial | center |
| button_bg_color_gradient_stops | #2b87da 0%|#29c4a9 100% |
| button_bg_color_gradient_unit | % |
| button_bg_color_gradient_overlays_image | off |
| button_bg_color_gradient_start | #2b87da |
| button_bg_color_gradient_start_position | 0% |
| button_bg_color_gradient_end | #29c4a9 |
| button_bg_color_gradient_end_position | 100% |
| button_bg_enable_image | on |
| button_bg_parallax | off |
| button_bg_parallax_method | on |
| button_bg_size | cover |
| button_bg_image_width | auto |
| button_bg_image_height | auto |
| button_bg_position | center |
| button_bg_horizontal_offset | 0 |
| button_bg_vertical_offset | 0 |
| button_bg_repeat | no-repeat |
| button_bg_blend | normal |
| button_bg_enable_video_mp4 | on |
| button_bg_enable_video_webm | on |
| button_bg_allow_player_pause | off |
| button_bg_video_pause_outside_viewport | on |
| button_use_icon | on |
| button_icon_placement | right |
| button_on_hover | on |
| positioning | none |
| position_origin_a | top_left |
| position_origin_f | top_left |
| position_origin_r | top_left |
| width | auto |
| max_width | none |
| min_height | auto |
| height | auto |
| max_height | none |
| filter_hue_rotate | 0deg |
| filter_saturate | 100% |
| filter_brightness | 100% |
| filter_contrast | 100% |
| filter_invert | 0% |
| filter_sepia | 0% |
| filter_opacity | 100% |
| filter_blur | 0px |
| mix_blend_mode | normal |
| animation_style | none |
| animation_direction | center |
| animation_duration | 1000ms |
| animation_delay | 0ms |
| animation_intensity_slide | 50% |
| animation_intensity_zoom | 50% |
| animation_intensity_flip | 50% |
| animation_intensity_fold | 50% |
| animation_intensity_roll | 50% |
| animation_starting_opacity | 0% |
| animation_speed_curve | ease-in-out |
| animation_repeat | once |
| hover_transition_duration | 300ms |
| hover_transition_delay | 0ms |
| hover_transition_speed_curve | ease |
| link_option_url_new_window | off |
| sticky_position | none |
| sticky_offset_top | 0px |
| sticky_offset_bottom | 0px |
| sticky_limit_top | none |
| sticky_limit_bottom | none |
| sticky_offset_surrounding | on |
| sticky_transition | on |
| motion_trigger_start | middle |
| hover_enabled | 0 |
| title_text_shadow_style | none |
| title_text_shadow_horizontal_length | 0em |
| title_text_shadow_vertical_length | 0em |
| title_text_shadow_blur_strength | 0em |
| title_text_shadow_color | rgba(0,0,0,0.4) |
| excerpt_text_shadow_style | none |
| excerpt_text_shadow_horizontal_length | 0em |
| excerpt_text_shadow_vertical_length | 0em |
| excerpt_text_shadow_blur_strength | 0em |
| excerpt_text_shadow_color | rgba(0,0,0,0.4) |
| loop_template_meta_text_shadow_style | none |
| loop_template_meta_text_shadow_horizontal_length | 0em |
| loop_template_meta_text_shadow_vertical_length | 0em |
| loop_template_meta_text_shadow_blur_strength | 0em |
| loop_template_meta_text_shadow_color | rgba(0,0,0,0.4) |
| loop_template_meta_a_text_shadow_style | none |
| loop_template_meta_a_text_shadow_horizontal_length | 0em |
| loop_template_meta_a_text_shadow_vertical_length | 0em |
| loop_template_meta_a_text_shadow_blur_strength | 0em |
| loop_template_meta_a_text_shadow_color | rgba(0,0,0,0.4) |
| loop_template_a_text_shadow_style | none |
| loop_template_a_text_shadow_horizontal_length | 0em |
| loop_template_a_text_shadow_vertical_length | 0em |
| loop_template_a_text_shadow_blur_strength | 0em |
| loop_template_a_text_shadow_color | rgba(0,0,0,0.4) |
| button_text_shadow_style | none |
| button_text_shadow_horizontal_length | 0em |
| button_text_shadow_vertical_length | 0em |
| button_text_shadow_blur_strength | 0em |
| button_text_shadow_color | rgba(0,0,0,0.4) |
| box_shadow_style | none |
| box_shadow_color | rgba(0,0,0,0.3) |
| box_shadow_position | outer |
| box_shadow_style_product | none |
| box_shadow_color_product | rgba(0,0,0,0.3) |
| box_shadow_position_product | outer |
| box_shadow_style_grid_list_view_button | none |
| box_shadow_color_grid_list_view_button | rgba(0,0,0,0.3) |
| box_shadow_position_grid_list_view_button | outer |
| box_shadow_style_button | none |
| box_shadow_color_button | rgba(0,0,0,0.3) |
| box_shadow_position_button | outer |
| text_shadow_style | none |
| text_shadow_horizontal_length | 0em |
| text_shadow_vertical_length | 0em |
| text_shadow_blur_strength | 0em |
| text_shadow_color | rgba(0,0,0,0.4) |
| disabled | off |
| global_colors_info | {} |